Falkland Islands Government Comments, Compliments and Complaints Policy
Falkland Islands Government (FIG) recognise the importance of comments, compliments and complaints and their value as a form of feedback
about the services for which we provide and are responsible. FIG will seek to learn from feedback received in order to improve upon the services provided.
If something goes wrong or you are dissatisfied with our services, please get in touch.
What is a complaint and what can I complain about?
FIG defines a complaint as: "An expression of dissatisfaction by one or more members of the public about FIG's action or lack of action, or about the standard of service provided by or on behalf of the Falkland Islands Government."
This may include but is not limited to:
Unreasonable behaviour of conduct by an FIG employee;
Poor quality or failure of service provision;
Policy or procedure not followed correctly.
Who can complain?
Anyone can make a complaint, including a representative on behalf of the complainant.
How do I complain?
Complaints can be made in the following ways:
By contacting the department directly which concerns your feedback;
In person, writing, email or phone to the Chief Executive's Office, Secretariat, Stanley. Phone: +500 28450, email:

This email address is being protected from spambots. You need JavaScript enabled to view it.

;
Via a Member of the Legislative Assembly.
You will be encouraged to complete the Comments, Compliments and Complaints Feedback Form or the webform on the FIG website; this is to ensure that relevant details are recorded. It is easier to resolve complaints at the prevention stage, directly to the service area concerned; please talk to a member of our staff at the department you are complaining about. Then they can try to resolve any problems on the spot.
When complaining, tell us:
Your name and contact details
As much as you can about your complaint and what has gone wrong
How you want us to resolve the matter.
How long do I have to make a complaint?
Complaints must be submitted within 3 motnhs of the event happening.
Quick guide to our complaints process
Please click on the photo below to view in full detail.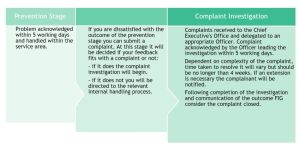 Comments and Complaints Documentation